Den 15 Januari 1856 satte sig den 31 åriga läkaren Auguste Delpech för att läsa vad den Franska medicinska akademin sammanställt om ett syndrom som inte riktigt liknade något annat, det föreföll faktiskt vara en nyhet för hela den medicinska vetenskapen.
Den gemensamma nämnaren för personerna som drabbats var att de samtliga arbetat i den relativt unga gummiindustrin. Kolsvavla eller Carbon disulfid började används inom industrin på grund av sina utmärkta lösningsmedel egenskaper. Den användes som fosfor lösningsmedel i tillverkningen av tändstickor och som lösningsmedel i utarbetandet av fetter, lacker och kamfer, vid raffinering av paraffin och utvinning av olja från oliver och till vulkaniseringen av gummi. Vid några fabriker hade man blivit mer och mer medveten om farorna och skyddande stålgaller monterades kring de nya stora vädringsfönstren, inte alls för att förhindra inbrott, utan för att hindra att arbetarna i fabriken slängde sig ut med ett kvitter eller manisk tjutande läte, eller valde att lämna denna världen i tystnad. Fåglar som flög in i för att äta en överbliven brödsmula hittades ibland på golvet, de kan anses vara mästerliga på att hantera gaser, då de anstränger sig som mest i luftlager med extremt lite syre där stor kyla dessutom gör det svårt att andas.
Delpech blev mycket intresserad av fenomenet och började undersöka det själv och var mycket noggrann när han beskrev också personerna han såg:
The man dragged his leg behind him as if it were
inert and lifeless: he made no attempt to move it nor
did he circumduct the limb when he was walking a
would be the case "dans un hemiplegie ancienne de
cause organique." The right arm was supple,
undeformed, and without rigidity. The hand,
however, was deformed, being held with the finger
at right angles to the palm so strongly as to resis
movement.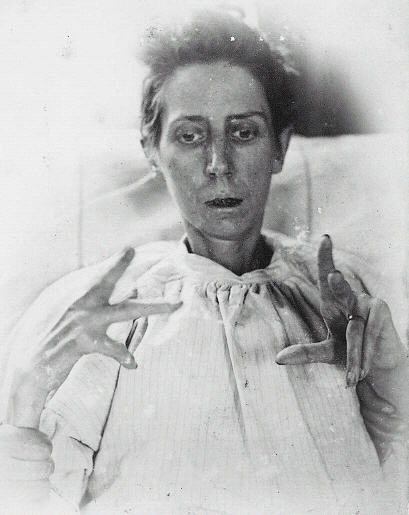 It was important to notice
that while sensation was completely abolished, motor
function was not. This differed from the example of
lesions in the posterior limb of the interior capsule.
More remarkably the face was not affected by the
motor loss. One could readily note a frequent twitch-
ing of the angle of the right side of the mouth
downwards and to the right. Charcot had described
in his previous work all these features as being
classically found only in hysteric paralyses, par-
ticularly the mismatch between motor and sensory
loss and the "spasme glosso-labiale.
Delpech talar alltså om en förluster av känseln i de yttre nervbanorna kombinerat med kramptillstånd där en del av muskulaturen förefaller ha drivit lemmarna till utfällda eller samanspända lägen. Påminner kanske ganska rejält om tillstånd med lite smörsyra, till slut krampar det osmörjda systemet fast i de mest underligt krampaktiga lägen som om deras närvaro blekts av ett okontrollerat proton  överskott ganska likt bakpulver.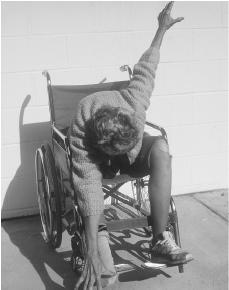 Smärtkanalerna och glömskans flod
Redan 1856 antecknade Auguste Delpech så noggrant att det idag kan vara lätt att fundera om de transienta receptorkanalerna är involverade i effekten av Sulphide Du Carbon, Kolsvavla eller Karbon Disulfid som vi säger i dag.  Effekten förefaller i vissa fall vara skolexemplet på vad som kan anses vara en bifasisk reaktion på flera nervbanor och  system.  Saker och ting går lättare, en initial sexuell upphetsning följd av en alltmer tilltagande impotens, för att gestalta det hela ur en av sina mest dramatiska vinklingar. en dam rapporterade om en  "aphrodisiacal excitation"  en herre rapporterade om en ett tillstånd utan ett påtagligt bultande från undervåningarna gjorde sig påmint. Dessa berättelser visar dock samtliga att den sexuella överretningen efter en tid förbyts i ett sexuellt ointresse. En av de beskrivningarna är och Thomas Oliver's berättelse om hur fabriksarbetarna kunde drabbas av akut galenskap och grundskakande fälla ut sig från fabrikslokalitetens övre plan. Närmare beskrivning hittas på  CS2 intro. Energin verkar bli svårare att ta upp liksom förmågan till att reagera på  CO2-halten –  det som får oss att andas. (suck)(sic)
Some symptoms could be most readily explained as the direct effects of contact with carbon disulphide. When a small amount was placed on the skin there was first a sensation of unpleasant coldness succeeded by a feeling of heat followed by burning and extreme pain.
Inte bara TRPV förefaller vara  engagerade i signalkaskaden av CS2 måhända tillsammans med en solvent urlakning av pottaska och smörsyra (GABA, Kalium) vilka lett fram till underreglering av CO2, CO och O.  Detta är iofs teckningar från ytterligheterna  men de är knappast några nyheter. Frågan är nu snarare om någon någonstans kan säga att den reaktiva fasen inte beror på CS2 när det gäller Schizofreni. Ämnet kan ge symptomen och återfinns i gruppen.
Hjärtstenen och vulkanen
Den översta Bilden föreställer en kvinna med Kataton Schizofreni London 1850, ett tillstånd där finns väldigt lite  smörsyra och inför inför utbrotten av sjukdomen kan observeras en stigande halt av energirika fosfater i blodet, vid sjukdomen är  förmågan att reagera på omgivande gasbilder nedsatt som efter en svår infektion. Svårt att säga exakt stora eventuella samband kan vara men personer med diagnosen ovan förefaller ha fastställt högre värden med CS2 men antagligen av ett annat ursprung än den gruppen Delpech beskrev 1856.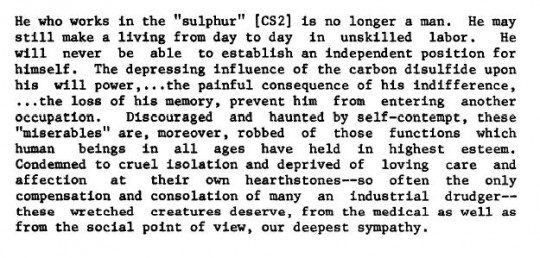 Dödens och glömskans flod
Den grekiska mytologin ger sinnebilden av mänskligt liv och leverne, där skrivs om Lethe som dödens flod, något mycket likt vad kristendomen talar om som helvetet. Det egentliga helvetet. Achilles hade skolande nog en berättelse att tillföra historien, det var hans ömma ställe, den svagaste delen och sårbaraste punkten. Den punkt hos människan som påverkar mest vid en störning torde vara proton motiv kraften för det är just där Homo Sapiens är upplopplad till denna verkligheten. Protonmotivkraften är den grundläggande drivkällan till resterande system, det är vad som ger dig insikt därinne i skallen nu när du sitter och tittar ut.  -Tittut! Mörkret i en diskupphängd och halsdragen benkonsol underlättas ibland av ögonen i döskallegrottan.
Många religioner beskriver tillstånden men frågan är om inte alla skaparna av religionerna också haft dem. Trons oerhört stora betydelser är underskattade i dagens samhälle men tas fortfarande tillvara i de mest intima relationerna som mellan föräldrar och barn. Mellan nära och kära men också av religionerna själva, för vem skulle egentligen kunna veta mer om trons stora betydelse om de inte varit just de som haft de som enda matsäck i sin tillvaro. Den lilla porslinsspillran av verkligheten de fick med sig blev de väldigt välbekanta med och visste till slut det mesta om. Förunderliga sanningar, förunderlig tro, men också en del i den verklighet där du nu bo. Trons beskrivningar om helvetet är ofta tecknade i eld och svavelsyrade ångor, och vem skulle någonsin kunna tro på något annat än att de som beskriver detta bäst är människor som faktiskt sett vad de skriver och talar om. Smederna till sagornas port. Ett nobelpris gick just till en beskrivning grundat på att ko med namn ger mer mjölk än en ko utan namn. Ko ack ack acka, det skulle vara en synd att inte förstå att detta är en gestaltning av tro. Eller hur tron föder handling.
Slå dig själv och piska andras drömmar med  Dödsglödsstileben, Murkenpyrande,  Självunkningsbegär, Ödeltomten, Desivondrinkarna, Socialpastellerna, Fitthålsgudomligt
såpa, Ögonsalva. Vad får man egentligen tro tycka säga, skriva och tänka?
Gudomligheten för vulkaner och eld heter i den romerska mytologin Vulkan. De som har Vulkan i sig är ute i verkligheten och bänder i gummit för resten som alla sitter stöpta i meningen efter punkten på denna gummigrop.
De lätta och tunga gaserna
I Fillipinerna fanns för några dekader sedan ett gäng glada dykare som plockade upp skatter från botten och lite annat. De tillägnade sig inte någon större kunskap om "the bends" eller dykarsjukans lagar utan dök på av bara attans. Tiden gick och de fick svårare och svårare att gå raka och upprätta på ytan, de hade fått the bends i lederna till slut. Men en sak var de alltid noga med att påpeka – Ses vi därnere på havsbotten så kan jag röra mig lika bra som du! Förvisso kan det vara sant men det var nu också den enda värld de kunde röra sig själva fritt uti.
Det påminner om fabriksarbetarna i gummiindustrin vid 1800 talets mitt, flickorna kommer hem efter en dags arbete och har somnat innan de fått i sig en enda tugga mat. De fick dock ingen riktigt uppfriskande sömn utan en konstig dvala. Att däremot somna på riktigt blev svårare och svårare, drömmarna blev konstigare och konstigare. Med ett besynnerligt illamående och välrustad huvudvärk drar de sig till jobbet dan därpå. Först där blev  de lite mer livaktiga, när de kom in i dimman igen så såg de, ungefär som en alkoholists tankedagg, det kliar i tandköttet eller är det tankeflötet. Delpech skriver om en kvinna kännt sig allt mer och mer konstig anormal för varje dag på sitt arbete, till slut satte hon sig bara ned bland ångorna och lät dem ta henne. Luften gick sakta ur henne precis som ballongerna i fabriken där hon dog.